Africa
Anas Aremeyaw Anas
Anas Aremeyaw Anas is an undercover journalist, attorney and private detective working in Ghana and across Africa. He is lead reporter for Africa Investigates, a documentary series on Al Jazeera. In disguise, he finds his way into asylums, brothels, prisons, orphanages and villages, where he methodically gathers evidence for criminal prosecution. In 2008, the U.S. State Department gave him its Hero Award, for his work exposing a human trafficking ring in Western Africa.
Barbara Among
Barbara Among is a freelance journalist based in Uganda. She has covered conflict in the Great Lakes region, politics, business, human rights and terrorism. She also writes about health and the environment. Among's work currently appears in the East African newspaper, she has written for Uganda's national Daily Monitor and New Vision newspapers. Her work has also appeared in the Guardian (U.K.), the Observer (U.K.), the Independent (U.K.), Reuters and Daily Nation newspaper in Kenya. Among is a winner of the prestigious David Astor Journalism Award and the Uganda Investigative journalism award.
Wanjohi Kabukuru
Wanjohi Kabukuru is the Eastern African correspondent of New African the oldest English language, pan-African monthly magazine published in London and distributed in over 100 countries. He also writes on the environment and security affairs for Diplomat East Africa, the leading East African regional diplomatic affairs magazine. Prior to becoming an international journalist he was formerly an investigative reporter covering human rights and environmental justice for The People's Daily in Kenya. Kabukuru contributes articles to Radio France International (RFI), the Mail and Guardian, Inter Press Service among other media entities. His coverage has won numerous awards, and he a former editor of Zwazo magazine in Seychelles. Kabukuru has presented papers in media conferences across the globe and is a member of several international professional media bodies.
Fiona Macleod
Fiona Macleod is founder of Oxpeckers Centre for Investigative Environmental Journalism, Africa's first journalistic investigation unit focusing on environmental issues. Prior to founding Oxpeckers, Macleod worked as an award-winning journalist and editor at a range of the region's top media, including the Mail&Guradian, Earthyear and HomeGrown magazines. Macleod served as environmental editor at the Mail&Guardian newspaper for ten years, and received the prestigious Nick Steele Award for her reporting on environmental conservation. She has also edited several books, including Your Guide to Green Living, A Social Contract: The Way Forward and Fighting for Justice.
Khadija Sharife
Khadija Sharife is a journalist, researcher and visiting scholar at the Center for Civil Society (CCS) based in South Africa, and a contributor to the Tax Justice Network. She is the Southern Africa correspondent for The Africa Report magazine, assistant editor of the Harvard "World Poverty and Human Rights" journal and author of Tax Us If You Can (Africa). Her work has appeared in African Business, Forbes, The Economist, Foreign Policy, BBC, Le Monde Diplomatique, London Review of Books, African Banker and other publications. She is currently completing her masters of law (international business).
Asia
Andrew Marshall
Andrew Marshall is a freelance journalist based in Asia. He writes mainly about Asian politics, human rights, political risk, and media ethics. From 2010 to June 2011, he had served as Reuters deputy editor for emerging and frontier Asia. He has reported for Reuters from Jakarta, served as deputy bureau chief in Bangkok, bureau chief in Baghdad, and managing editor for the Middle East, where he was Reuters's chief correspondent for political risk. He has reported from more than three dozen countries, covering conflicts in Iraq, Afghanistan, Pakistan, Lebanon, the Palestinian Territories and East Timor, and political upheaval in Israel, Indonesia, Cambodia, Thailand and Burma. He regularly gives presentations to corporate executives and finance industry analysts on political risk, dealing with risk as a manager, and on predicting future political and social trends in Asia. He received his degree from the University of Cambridge.
Kishore Nepal
Kishore Nepal is the chief editor of Shukrabar, a weekly tabloid of the Nepal Republic Media Pvt. Ltd., which contains stories of an investigative and cultural nature. His areas of interest include investigative reporting and rural based journalism. In Nepal, he started a weekly newspaper and encouraged young journalists to work in investigative journalism. In 2001, suffering under Maoist insurgency and people crying for peace, he conceived, anchored and broadcast a weekly TV program, Mat-Abhimat (Opinions and Thoughts), based on local rural realities. He has written for the Nepali Times, a popular English weekly, and has worked for Reuters from Kathmandu for three years from 1987 to 1990. He has received awards from the Press Council of Nepal, the Federation of Nepali Journalists, and the Nepal Government. He received an M.A. in rural development from Tribhuvan University and studied communications in the East-West Center of Hawaii University as a Jefferson Fellow.
Saritha Rai
Saritha Rai has spent her journalistic career tracking diverse subjects such as globalization, the technology industry and social change. For six years, she was the India-based business reporter for The New York Times, writing about the economy, outsourcing, liberalization and change. She has written for the International Herald Tribune, served as the technology correspondent for Time magazine's Asia edition, and was the editor of the online edition of the Economic Times, India's No. 1 business newspaper. She has worked with India Today, the country's most widely-read newsmagazine, and The Telegraph, one of India's largest newspapers. She is also a contributor to the online Global Post. Her work has appeared in magazines such as Forbes, Worth, and Ode. She was a Knight Fellow at Stanford University where she focused on business, the Internet, and emerging technologies. She graduated with a degree in journalism from Bangalore University.
Central/Eastern Europe
Tamás Bodoky
Tamás Bodoky is a freelance investigative journalist based in Budapest, Hungary. He has written about science, technology, the environment, human rights issues, corruption, organized crime cases, police brutality, and green politics. Before joining Index.hu, where he works as a journalist and editor, he was a science and technology journalist at the Magyar Narancs weekly. He is editor of Hungarian media studies quarterly Médiakutató, and teaches journalism at Károli Gáspár University in Budapest. In July 2011 Bodoky co-founded a watchdog NGO and news portal for investigative journalism, atlatszo.hu, where he serves as editor in chief and managing director. He has won the G?bölyös Soma Prize for investigative journalism in 2008, and the Szabadság Prize in 2009 for his articles on Hungary's 2006 unrest and police brutality. He has also won the Iustitia Regnorum Fundamentum and the Hungarian Pulitzer Memorial Prize for his investigative articles on corruption cases. He received an MS.c. degree in Agricultural Sciences and a Ph.D. degree in Language Sciences.
Aleksandar Bozhinovski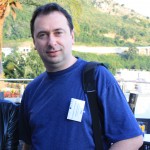 Aleksandar Bozhinovski, based in Macedonia, is an investigative journalist for the Organized Crime and Corruption Reporting Project. He began as a court reporter before becoming an investigative reporter covering terrorism, the police and the military, corruption, and organized crime. He has written about game fixing in sports, eavesdropping in Macedonia, and the interference of foreign spy agencies in the Balkans. He has worked as a journalist since 1996 for the daily Vecer, Nova Makedonija, the daily Vreme, and for the weekly Forum. He broke the story on an extraordinary rendition case, tracking the abduction of Khaled el-Masri. For the story, he worked in cooperation with The New York Times and a number of German news organizations including ZDF-TV. He received his degree from the Ss. Cyril and Methodius University of Skopje in Macedonia.
Beata Biel
Beata Biel is an award winning, Krakow-based Polish journalist, documentarian and TV producer. For the past 10 years she has worked as a researcher and reporter for the Polish TV channel TVN. As a reporter and investigative journalist, she has focused on current affairs, social issues, human stories, human rights and terrorism. Since September 2010, she has been working as a freelancer and running her own production company. In 2008 she won the Polish Grand Press Award for the best TV reporting of the year for her film "Help in Death" about a Swiss organization Dignitas, which helps people commit suicide. A year later she won a special mention during the TV Investigative Reports Review for her documentary film "The Terrorists' Prince" about the Polish relations with Arab terrorists in the 70s and 80s. She is a 2011 Transatlantic Media Fellow at the Center for Strategic and International Studies in Washington DC. She received an M.A. in journalism and mass communications from the Jagiellonian University in Krakow.
Stefan Candea
Stefan Candea is a Romanian investigative journalist for the Evenimentul Zilei newspaper in Bucharest who has written about the connections between international organized crime networks and high-ranking politicians and public servants. He has also written at length about the international arms trade, illegal international adoptions, an investigation of the separatist region of Trans-Dniester and the diamond business in Romania. He is a co-founder of the Romanian Centre for Investigative Journalism, and worked for the first investigative TV show in Romania, Reporteri Incognito. He has worked for Deutsche Welle, in print, radio, TV and online capacities. Since March 2001, he has been a correspondent for Reporters Without Borders in Romania. He is a member of the International Consortium for Investigative Journalists and has been awarded the IRE Tom Renner Award and the Overseas Press Club of America Award for online journalism. He teaches investigative journalism at Bucharest University and was the 2011 Carroll Binder Nieman Fellow at Harvard University. He has a B.A. in journalism at the West University School of Journalism and an M.A. in communication at SNSPA in Bucharest.
Milorad Ivanovic
Milorad Ivanovic is the executive editor of Novi Magazin, a Serbian newsweekly. He previously served as deputy editor in chief and executive editor of Blic, the biggest Serbian daily. He has worked as a correspondent for the French news agency EPN, and has written about the U.S. Freedom of Information Act, social media, terrorism, trauma reporting, human rights, and corruption in international newspapers including El Mundo (Spain), The Mail on Sunday (UK), The Sunday Times (UK), The Washington Times (USA), and Der Standard (Austria). He is a board member of SCOOP, the network of investigative journalists in East and Southeastern Europe and has taken part in several cross-border projects, including a six-month investigation on arms trafficking from Ukraine via Bulgaria to Serbia. His investigation on mercenaries from the Balkans working for British and US security firms in Iraq was published extensively in the international media. In 2007 he was selected for the Balkan Fellowship for Journalistic Excellence. He studied at the School of Defence in the University of Belgrade.
Sasa Lekovic
Sasa Lekovic is a Croatian journalist who is the director of the Investigative Journalism Center (IJC) in Zagreb, Croatia. He has written about organized crime, human trafficking, corruption, and war. He lectures on investigative reporting at Singidunum University in Belgrade, Serbia and is a co-founder and trainer in the Media Training Center at FMC (FMC, IJC Belgrade, IJC Zagreb). He has worked as an investigative reporter, executive editor, and assistant editor in chief for, respectively, Globus, a Croatian national news magazine, Arena, a Croatian national weekly, and Jutarnji List, a Croatian national daily. He also worked with the B92 media company based in Belgrade as an author and editor of the SEARCH – MISSING PERSONS regional web, TV, and radio project. He is a member of the Croatian Journalists' Association, the International Federation of Journalists, and the Investigative Reporters and Editors Inc., USA. He is a recipient of the Croatian Journalists´ Association 2000 Investigative Reporting Prize (print media). He received his training from an investigative reporting TOT (training of trainers) conducted by the South-East European Network for Professionalization of Media and the Danish School of Journalism.
Adrian Mogos
Adrian Mogos, a native of Cluj, currently works for the Romanian daily Jurnalul National and at the Romanian Center for Investigative Journalism. He has published numerous investigative reports on Romanian media, and also worked on several regional investigative projects. His investigations include: Forged Identity – Highway to EU, which appeared in the Jurnalul National in 2009, and he was the lead coordinator of "The Fields of Terror – the New Slave Trade in the Heart of Europe," a cross-border investigation about forced labor networks still active in Western European countries. He has produced many other investigative pieces on such topics as illegal deforestations in Romania, suspicious public tenders organized by the local authorities, and the abuse of Roma children. He was a 2009 Fellow in the Balkan Fellowship for Journalistic Excellence program. He received his B.A. in journalism and English from the West University of Timisoara and studied at the Academia Istropolitan Nova in Slovakia.
Paul Radu
Paul Radu is a Romanian journalist who helped found the Organized Crime and Corruption Project, which works on cross-border investigative projects in the Balkans. He began his career as an investigator for Romania's best selling newspaper, Evenimentul Zilei (the "Daily Event") from 1998-2003. In 2003, he co-founded the Romanian Center for Investigative Journalism. He has held a number of fellowships, including the Alfred Friendly Press Fellowship in 2001, the Milena Jesenska Press Fellowship in 2002, the Rosalyn Carter Fellowship for Mental Health Journalism in 2007, and in 2008, he became a Knight International Journalism Fellow at the Romanian Center for Investigative Journalism. He is the recipient of numerous awards including the 2004 Knight International Journalism Award and the Investigative Reporters and Editors Award, the 2007 Global Shining Light Award, and the 2008 Investigative Reporters and Editors Award. He received his degree from West University in Romania.
Stanimir Vaglenov
Stanimir Vaglenov, a native of Stara Zagora, Bulgaria, is a journalist specializing in economic and energy reporting. He is currently chief of the Department of Informational and Internet services in the Newspaper Group, Bulgaria. He has also worked at the dailies 24 Hours and Continent and Business Post weekly. He has written at length about the social, economic and political implications of the South Stream pipeline, one of the most controversial energy projects in Europe. For the project, he worked closely with Albena Shkodrova, an editor of BIRN's Balkan Insight publication. He studied journalism and publishing at Veliko Turnovo University.
Blaz Zgaga
Blaz Zgaga is a freelance journalist in Slovenia and one of the co-authors of the three-part investigative trilogy "In the Name of the State," which focuses on arms smuggling into the Balkans during the conflicts of the 1990s. He has written extensively about arms trafficking, intellgience, and the politics of security and defense. His work has appeared in Slovenia's main daily newspapers Delo and Vecer, and in The Guardian, The Observer, Jane's Defence Weekly, Jane's Intelligence Review. Zgaga's work has led to investigations by the Slovene police, and he was prosecuted by the Slovene State Prosecutor for revealing military secrets and disclosing intelligence cooperation between Slovene and US intelligence services (DIA) against former Federal Republic of Yugoslavia. With co-author Matej Surc, he received a CEI/SEEMO special diploma for investigative journalism in November 2011 for their first book of a trilogy about arms smuggling. He received his B.A. in Sociology at the University of Ljubljana.
Latin America
Max Bono
Max Bono is a freelance journalist based in Brazil. He writes for Brazzil.com and Musibrasil.com and other websites. Bono's covers Latin American politics and culture, and his investigative work focuses on transnational wrongdoing.  Bono has been a visiting scholar at Columbia University's Journalism School in New York, and earned his bachlor's degreee in economics at the University of Siena in Italy.
Roberto Guareschi
Roberto Guareschi is an Argentinean journalist who works as columnist and editor for the Latin America branch of Project Syndicate, an international agency of opinion columns and op-ed essays. He has written about international events, Latin American politics, and crime. He is the former editor of Clarín, Argentina's largest selling daily newspaper, and participated in the creation of Clarín's online news operation. He is also the former editor of El Cronista Comercial, which he ran from 1975 to 1976. He was a visiting professor at the Graduate School of Journalism at University of California at Berkeley. He is a member of Argentina's National Academy of Journalism. Guareschi is a two-time winner of the Konex Prize in Argentina. He studied literature at the University of Buenos Aires.
Gonzalo Guillen
Gonzalo Guillén, a native of Bogotá, is a consultant to several Latin American newspapers and president of the Colombian chapter of the Instituto Prensa y Sociedad (IPYS). He specializes in human rights, armed conflict and official corruption. He is also on the faculty of International Relations at the University of Bogotá Jorge Tadeo Lozano. He directed the documentary "Igaparaná" and authored "Operación Jaque," which opened in June 2011 and shows how the liberation of Ingrid Betancourt, three Americans and 11 Colombian military was not the product of painstaking work of military intelligence, but rather a financial negotiation with two FARC leaders and the President Alvaro Uribe. He has worked at El Tiempo in Bogota, the TV-news TV TODAY, and was editor in chief for the news agency Colprensa. He served as general editor at the Bogotá daily La Prensa, and as editor at El Universo in Guayaquil, Ecuador, and at El País in Cali, Colombia. He has also worked as a Bogotá correspondent for The Miami Herald and El Nuevo Herald of Miami, covering Colombia and the Andean countries. He received his B.A. from the University of Bogotá, Jorge Tadeo Lozano.
Phil Gunson
Phil Gunson is a Caracas-based freelancer who writes mainly for The Economist and The Miami Herald. He had previously worked in Mexico City as the Latin American correspondent for The Guardian, and freelanced from Miami for The Guardian and BBC Latin American Service, covering the Caribbean, Mexico and Central America. While based in London, Gunson was the editor of World Insurance Report and Latin American Markets, produced by the Financial Times Business Newsletters. He has also written a book on the invasion of Panama. He was head of the English Language Service for EFE Spanish news agency and London Bureau Chief for Inter Press Service. He also freelanced from Tegucigalpa for The Guardian, CBC Radio and Time magazine. He is a graduate of Cambridge University.
Luz Maria Helguero

Luz Maria Helguero is the president of the board of the Peruvian NGO Transparencia and created the first Peruvian citizen online newspaper, Gua 3.0. She also founded the Network of Provincial Journalists to provide training for local Peruvian journalists. She has spearheaded the formation of a network of regional Peruvian journalists with the goal of having a unified regional front to influence policymaking decisions in the capital. She has provided extensive training for local journalists, including in areas where such opportunities are rare. Since 1994, she has been a board member and publisher of El Tiempo, a regional Peruvian newspaper founded in 1916, and where she had previously worked as the paper's editor-in-chief. Under her tenure, El Tiempo has won three major national awards. In 2003, Ms. Helguero was warded a Reagan-Fascell Fellowship at the National Endowment for Democracy in Washington. She was also a John S. Knight Fellow at Stanford University, where she focused on democracy, development and corruption. She is a graduate of the Universidad de Piura in Piura, Peru, where she has also earned a masters degree.
Maria L. Pallais
Maria L. Pallais, based in Mexico City, is a journalist who has worked as a writer and editor for Vision, a Latin American newsmagazine. She has also reported for The Associated Press in New York City and served as an assistant field producer for CBS/60 Minutes in Nicaragua, a correspondent for the CNN World Report in Nicaragua, a stringer for El País in Nicaragua, and chief international editor for Notimex, the Mexican news agency, based in Mexico City. She has also contributed pieces to The Nation, World Broadcast News, South Magazine, The Latin American Newsletter, the German News Agency DPA, and InterPress Service. Following 9/11, she wrote a weekly chronicle from Washington for Proceso, Mexico's top investigative news magazine, until her return to Mexico in March 2002. She received a Master's degree from Columbia University's Graduate School of Journalism.
Daniel Santoro
Daniel Santoro is the national political editor at Clarín, Argentina's largest newspaper, and has conducted extensive investigations into government corruption, national security matters, and international drug trafficking. He has broken a number of scandals detailing arms smuggling, including one story linking former President Carlos Menem with illegal sale of 6,500 tons of weapons to Croatia, which was under a UN arms embargo at the time, and to Ecuador. In addition to his work at Clarín, Santoro teaches investigative journalism at the Universidad de Belgrano in Buenos Aires and has also conducted classes at the Fundación para un Nuevo Periodismo Iberoamericano, run by Nobel Prize-winning author Gabriel García-Marquez in Colombia. He was awarded the 1995 King of Spain international journalism award for his "outstanding contribution" to journalism and the 2004 Maria Moors Cabot prize from Columbia University. He studied at the University of Belgrano in Argentina.
Middle East
Hisham Allam
Hisham Allam is the head deputy of the investigation department at the Cairo based independent newspaper Almasry Alyoum, where he has written about environmental and economic issues and political corruption. He published articles in Teen Stuff, a monthly youth magazine, from 2004 until 2006, at which point he started writing for Almasry Alyoum. He also produces a weekly investigative reporting talk show on the Egyptian CBC channel. In addition to serving as a media mentor with a UN training program in northern Sudan throughout the Presidential elections of 2010, he has lectured at Charles University in Prague and New York University. He was awarded a 2011 award by the Arij Organization in Amman for reporting on the Arab spring. He received his degree from Al-Azhar University in Cairo.
Hanan Solayman
Hanan Solayman is a freelance journalist based in Cairo, and editor of EMAJ, an online English magazine published by the Euro-Mediterranean Academy for Young Journalists, which is based in Sweden. She is also building her own start-up, Mandara, a non-profit portal for local news in Upper Egypt. Solayman's work has been published in the daily el-Shorouk, and in el-Hayat and el-Sharq el-Awsat, pan Arab newspapers, Community Times, an English magazine, the Silent Heros Invisible Bridges website and the English version of the OnIslam website. Previously, Solayman was the rotating head of the foreign desk at Rose Elyoussef daily newspaper, a producer at the al-Hayah Egyptian satellite channel and a freelancer for the el-Sharq el-Awsat newspaper. She has been a co-trainer for Thomson Reuters Foundation in Cairo. Solayman is a fellow of EMAJ, the World Press Institute, and the International Vistior Leadership Program. She received her B.A. from Cairo University.
Ali Zalat
Ali Zalat is the deputy editor of investigations at the independent al-Masry al-Youm (Egypt Today), based in Cairo. He was also a program producer of the Dream Satellite Channel morning program, the CBC Egyptian Satellite Channel (Lazem Nafham), and the "We Should Understand" program. He has been awarded the Arabian Journalism Prize from the Dubai Club for Journalism for his investigative reporting as well as second prize for best investigative journalism about Human Rights in Egypt by the United Nations Developmental Program and Al-Ahram International Institute of Journalism. He is also a fellow of the Mohamed Hassaneed Hikal Institution for Arabian Journalism and Arieg Institution. He has studied at the Thomson Institute for Journalism in London, and is a graduate of Cairo University.
North America
Richard Behar
Richard Behar is an investigative journalist who founded and coordinates Project Klebnikov, a global media alliance committed to shedding light on the Moscow murder of Forbes editor Paul Klebnikov, among similar inquiries. Behar has written on a wide number of topics, including the Bernard Madoff scandal, corruption inside the IRS, organized crime, national defense, and the 9/11 attacks. From 1982-2004, Behar worked on the staffs Behar worked on the staffs of Forbes, Time, and Fortune magazines, and completed assignments for the BBC, CNN, FoxNews.com and PBS. He has racked up over 20 awards for his reporting, including the Gerald Loeb, Polk (twice), National Magazine, Overseas Press Club (twice), Daniel Pearl, and Worth Bingham Prize – on subjects ranging from terror financing in Karachi to counterfeiting in Beijing; from corporate wrongdoing on Wall Street to the Russian mob in Siberia. Behar was included among the 100 top business journalists of the 20th century by The Journalist and Financial Reporter, and was named Business Journalist of the Year in London in 2001. He received his B.A. from New York University.
Joel Brinkley
Joel Brinkley is the Hearst Visiting Professional in Residence at Stanford University, where he also teaches courses on journalism. Brinkley joined the Department of Communication in the fall of 2006 after a 23-year career with The New York Times where he served as a reporter, editor and foreign correspondent. He has written about foreign affairs, foreign policy, technology, and the future of the nation's newspaper industry. He is also a foreign-affairs writer for Politico. He began his journalism career at the Associated Press and over the following years worked for The Richmond News Leader and The Louisville Courier Journal before joining The New York Times in 1983, where he served as Washington correspondent, White House correspondent, and chief of the Times Bureau in Jerusalem, Israel. Over the last 30 years Brinkley has reported from 46 states and more than 50 foreign countries. He won the Pulitzer Prize for International Reporting in 1980 and was twice a finalist for an investigative reporting Pulitzer. Brinkley received his B.A. in journalism from the University of North Carolina at Chapel Hill.
Greg Brosnan
Greg Brosnan produces, shoots and edits video for freelance clients including Channel 4 News, PBS, Al Jazeera English, The New York Times video, AFPTV and VJ Movement. A general news and economics print correspondent for Reuters for seven years, he left in 2007 to concentrate on documentary film. His work has appeared in Business Week, The Economist, The Houston Chronicle and Monocle. He is the video producer for Emerging Markets magazine.
Mimi Chakarova
Mimi Chakarova is a photographer and filmmaker who has covered global issues examining conflict, corruption and the sex trade over the past decade. She teaches visual storytelling at UC Berkeley's Graduate School of Journalism and has taught at Stanford University's African and African American Studies and Comparative Studies for Race and Ethnicity. Her work has appeared in National Geographic, The New York Times Sunday Magazine, The Atlantic Monthly, Ms., The Sunday Times Magazine in London, CBS News' "60 Minutes," PBS' FRONTLINE/World and the Center for Investigative Reporting, where she is currently a correspondent. She is the recipient of the 2003 Dorothea Lange Fellowship for outstanding work in documentary photography and the 2005 Magnum Photos Inge Morath Award for her work on sex trafficking. In addition, she was awarded the Nestor Almendros Award for courage in filmmaking at the 2011 Human Rights Watch Film Festival in New York. She was also the winner of the prestigious 2011 Daniel Pearl Award for Outstanding International Investigative Reporting. She received her B.F.A. in photography from the San Francisco Art Institute and her M.A. in visual studies from UC Berkeley.
Lydia Chavez