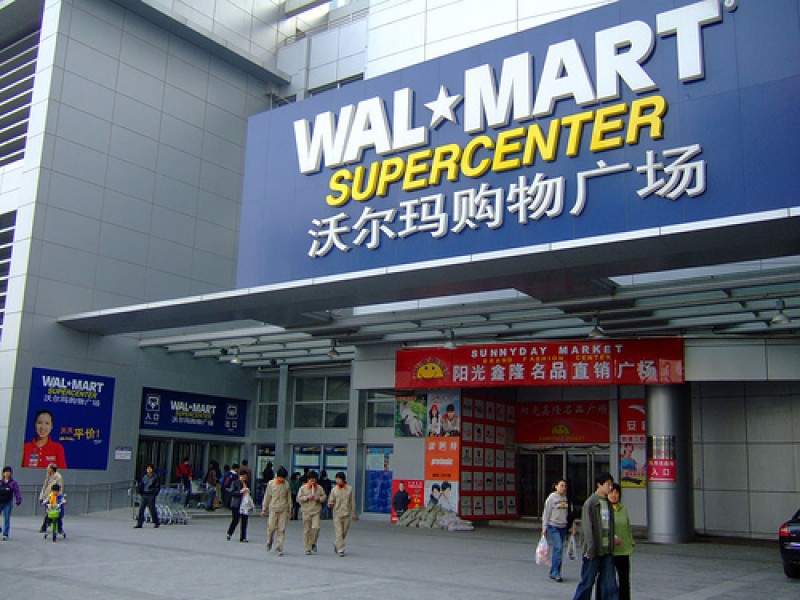 Large is the best way to describe Walmart. With $419 billion in annual revenues, it is the largest corporation in America, the largest retailer in the world and now, it has a large headache on its hands.
The giant retailer, which operates in 27 different countries and has 5,000 stores abroad, has disclosed in a Securities and Exchange Commission filing that it has opened an internal investigation into whether its employees violated Federal anti-bribery laws in its overseas operations.
The Bentonville, Arkansas company offered few details, saying only that the potential violations involved "permitting, licensing and inspections," and that it was taking "appropriate remedial measures."
The U.S. Foreign Corrupt Practices Act prohibits American companies from bribing local officials when doing business overseas.  The company said it has hired lawyers and advisors to deal with the fallout.
Walmart, known for low prices that lure customers and infuriate its competitors, will likely face a high price for its lapses. Just the same, given its outsized yearly revenues, the company said any fines would little affect its bottom line.
Sweep to Walmart starts corruption probe 
Former Illinois Governor Rod Blagojevich was sentenced to 14 years in prison on a variety of corruption-related charges this week. But for the taxpayers of Illinois, it's hardly the end of the story.
As Shakespeare wrote in Julius Caesar, "the evil that men do lives after them" – in this case, after Blagojevich enters the big house (which seems to be turning into a retirement home for corrupt Illinois politicians).
A newly-released study by the Illinois Policy Institute in Chicago puts a $14 billion price tag on Blagojevich's corrupt deeds, which works out to almost $110 a year per family, or $500 million a year.  Much of this is from high-ticket programs Blagojevich pushed through in order to win votes, which the state is now stuck with.
This list includes $10 billion in bonded debt that taxpayers will have to pay off long after Blagojevich leaves prison, another $3 billion diverted from state pensioners to his pet projects, and money spent on signs to keep Blagojevich's name plastered around the state.
There is a galling symmetry to $14 billion – one billion dollars for every year in Blagojevich's  prison sentence.
Sweep to Blago corruption price tag in the billions
If anyone needs another reason to fume at U.S. airlines, here's one: A culture of corruption that allowed baggage handlers to steal from passengers' luggage and turn commercial flights into "mules" for moving cocaine and other drugs.
Earlier this fall, police busted a ring of drug thieves – and American Airlines employees – operating out of Kennedy airport in New York.  An article in The New York Times shows that this was not an isolated incident involving a small number of people. Instead, law enforcement officials said, there is a "culture of corruption" among some bag handlers at Kennedy that led to massive drug smuggling operations.
Similar incidents were reported at other airports. In Philadelphia, baggage handlers for American were found to have been stealing electronics, jewelry and digital cameras from passenger bags. And a marijuana-smuggling ring among Delta employees in Detroit was recently broken up.  Federal records show, however, that American Airlines received more complaints about thefts from customers' belongings than any other air carrier.
Sweep to Cocaine smuggling case shows airline baggage handlers misconduct