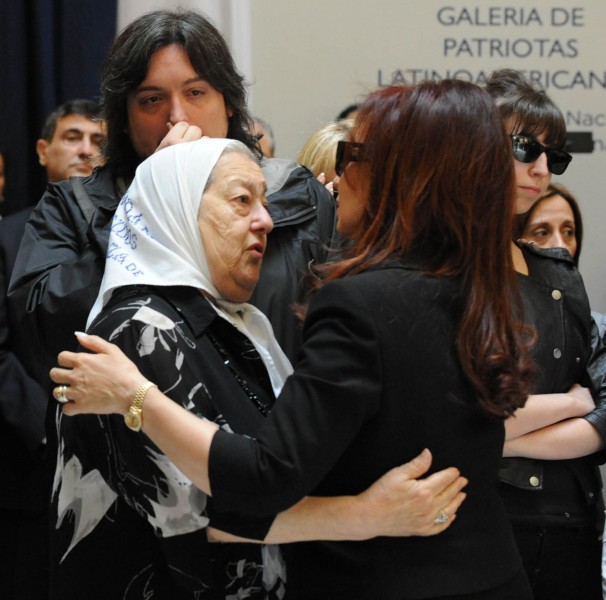 For more than three decades, grieving mothers – Las Madres de Plaza de Mayo – who lost children during the right-wing military dictatorship that ruled Argentina in the 1970s and 1980s have stood in silent protest every day in Buenos Aries' main square.
The mothers' quiet protest in their trademark white shawls was a moral rebuke to the politics of that era, when thousands of leftists and university students were murdered or simply disappeared.
Now, leaders of the movement say they let a thief into their midst.  A former administrator of the Madres, Sergio Schoklender, is accused of taking $11.5 million in taxpayers' money that had been earmarked to support the Madres.  He allegedly used the cash to purchase two private planes, a yacht and a fleet of luxury cars.
He is one of 64 people who are alleged to have ripped off the Madres, and are facing charges of money laundering, fraud, falsifying documents and conspiracy. The charges stem from some $178 million given to the Madres under a social program known as Shared Dreams, which was to have gone for public housing. The apartments were built, although prosecutors claim much of the money was skimmed off.
Hebe de Bonafini–at 83, president of the Madres–brought Schoklender into the organization. Now she calls him a "traitor and thief." Bonafini's daughter Alejandra faces the same charges as Schoklender.
Sweep to Argentine corruption scandal threatens legacy of grieving mothers
The combination of people power and modern technology is pointing a finger at one visible sign of corruption in China: The expensive and fancy cars that elite Communist officials seem to favor.
A microblog site – called Anti-Official Cars Extravagance – was set up to allow the Chinese to post cellphone photos of luxurious government cars.  A report in the Los Angles Times quotes a professor at the Chinese Academy of Governance in Beijing as calling these fancy cars "corruption on wheels."
There is widespread public outrage at a Communist system that doles out such perks as Bentleys, Maseratis and other cars that carry a six-digit price tag.  Cellphone photos show that these cars are registered to the Communist Party headquarters.
The Audi A6 is particularly popular among the party elite, with about 20 percent of the 100,000 Audis in the country registered to the government.  SUVs – especially the Porsche Cayenne and Mercedes-Benz – are popular with police.  Posted photos show that the cars are not just used on official business but also on family vacations and trips to local shopping malls.
Considering the Marxist mantra "to each according to his needs," these officials are claiming pretty big needs indeed.
Sweep to China Communist Party bureaucrats like their cars high end
In Egypt, concern over public corruption appears to have moved from the streets to the courts.  Human rights activist and attorney, Khalid Ali, who heads the Egyptian Center for Economic and Social Rights, is heading the effort to get a judge to look into potentially corrupt privatization deals.
There has been a lot of attention in Egypt on privatization deals in which state assets are transferred into the hands of private investors. Since the ouster of Hosni Mubarak as president, a series of court decisions have challenged many past privatization deals.  Three industrial companies were ordered to cancel deals last September and return the assets to the state.  The courts say that the agreements squandered public funds.
Ali called such sales "the leading cause of the Egyptian economy's destruction." He urged the courts to question some two dozen current and former government officials, including Field Marshall Mohamed Hussein Tantawi, concerning them.
Sweep to Lawsuit demanding investigation of corrupt privatization deals