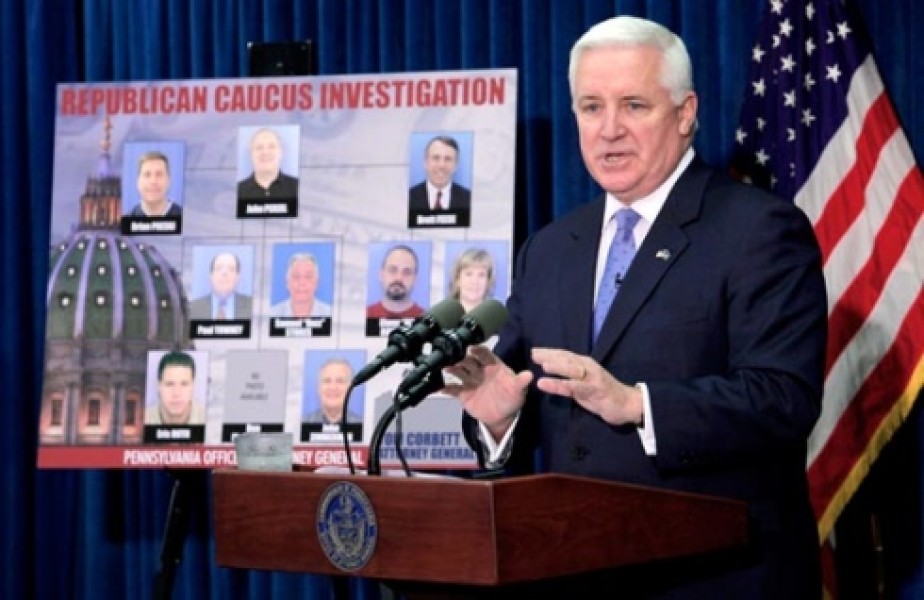 Former Pennsylvania House Speaker John Perzel is headed for the big house after being sentenced on corruption charges.
As the Pittsburgh Post-Gazette reports, the judge sentenced the former Republican leader to "between 30 months and five years in prison and ordered him to pay $1 million in restitution for masterminding a $10 million scheme to use public resources to aid in GOP political campaigns."
Prosecutors say Perzel and nearly a dozen other House Republican lawmakers used tax dollars "to purchase sophisticated computer databases designed to target voters," according to the Post-Gazette.
Perzel will begin serving his sentence on April 11. He is one of a host of former lawmakers being prosecuted as part of the scheme.
Sweep to Former speaker of the Pa. House sentenced in corruption case
Most politicians busted for bribery just a week before an election might face a tough time at the polls. Apparently, not in Chicago.
As the Chicago Sun-Times reports, Illinois State Rep. Derrick Smith "scored a big win Tuesday against his Republican-turned-Democratic challenger in a quirky primary contest a week after his arrest on a federal bribery charge."
Smith is charged with allegedly accepting a $7,000 bribe to "write a recommendation letter for a daycare center he thought was seeking a state grant." He garnered more than 75 percent of the vote Tuesday.
Smith's challenger, Tom Swiss, told the Sun-Times he felt the arrest may actually have helped raise Smith's name recognition with Chicago voters and thus contributed to his win. Go figure.
Sweep to One week after bribery charge, State Rep. Derrick Smith wins big
Nigeria, frequently ranked among the most corrupt countries in the world, has signed a new accord with the European Union to pump $46 million into a sweeping anti-corruption effort.
The agreement was signed late Monday by Nigeria's national planning minister and the head of the EU's delegation to Nigeria, the AFP reports.
"The overall objective of these three projects is to promote good governance and contribute to Nigeria's efforts in enhancing transparency, accountability and combating corruption," the EU said in a statement.
The projects, to be implemented by the UN Office on Drug and Crime, will include not just the anti-corruption programs but also additional funding for related projects to tackle drug-related issues.