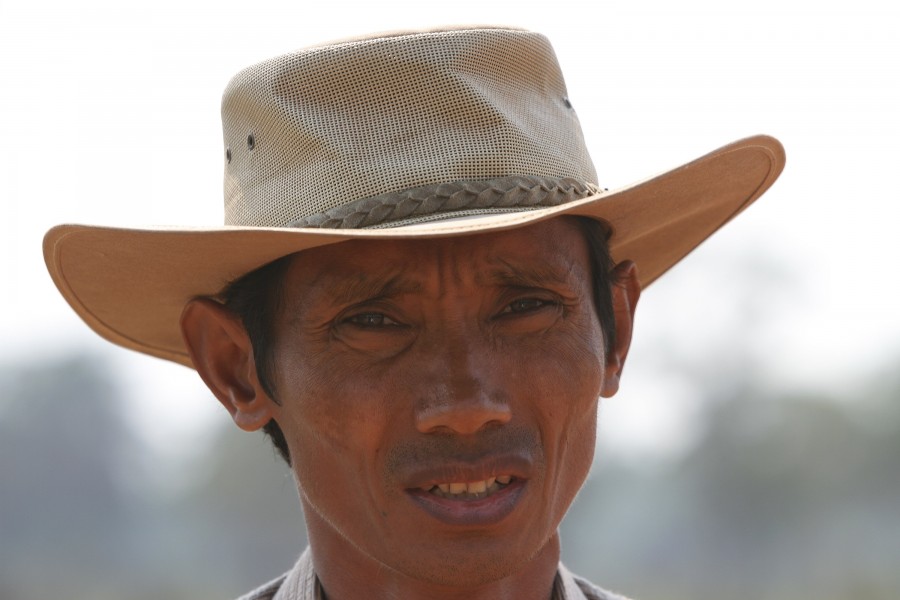 One of Cambodia's best known and most outspoken environmental activists was shot dead by Cambodian police Wednesday, while traveling with two journalists in a remote forest area.
Chut Wutty, a leading critic of corruption he said has forced the eviction of rural families for the benefit of logging companies and other corporations, reportedly had "taken the journalists to see large-scale forest destruction and illegal rosewood smuggling near a Chinese-built hydroelectric dam in Koh Kong," The Guardian reports, citing Cambodian human rights group Licadho.
On the way out of the forest, Chut Wutty's party "came to a checkpoint where military police demanded the memory card" containing the photos he had taken of the logging. He refused.
It's not clear what happened next, but it ended with police fatally shooting Chut Wutty.
According to the Guardian, a military police spokesman said a policeman was also killed and claimed that the activist had been armed and a firefight took place.
Police have detained the two journalists with the Cambodia Daily, who are not reported to have been injured in the incident.
Sweep to Cambodian police shoot dead leading anti-logging campaigner
New guidelines drafted by FIFA tell soccer players and officials to "reject and condemn all forms of bribery and corruption."
As the Associated Press reports, the world soccer body "sent drafts of the code's 11 core principles to 208 soccer nations ahead of their annual Congress next month in Budapest, Hungary, which promises modest progress in President Sepp Blatter's two-year mission to repair FIFA's reputation after bribery and alleged World Cup vote-rigging scandals."
FIFA, which has been plagued by corruption scandals ranging from match-fixing to bribery in the World Cup selection process, has appointed a special task force to focus on increasing transparency. It is set to "present its conduct charter on May 25 to stress the need for better behavior in soccer's ranks."
Sweep to FIFA publishes anti-corruption code of conduct
Miami Beach might be known for its sizzling nightclubs, but now it's the city's fire department which finds itself in the hot seat.
A half-dozen fire inspectors now stand accused of demanding bribes to look the other way on compliance violations at a local nightclub.
"As many as seven city employees have been arrested after a shake down, including Jose Alberto, a lead compliance officer accused of taking cash to allow a nightclub to bend the rules," Miami station WSVN reports.
City officials say they plan to fire the employees – though after a string of corruption cases recently, some Miami Beach residents are clamoring for a house-cleaning at City Hall.
Sweep to Corruption scandal rocks Miami Beach City hall