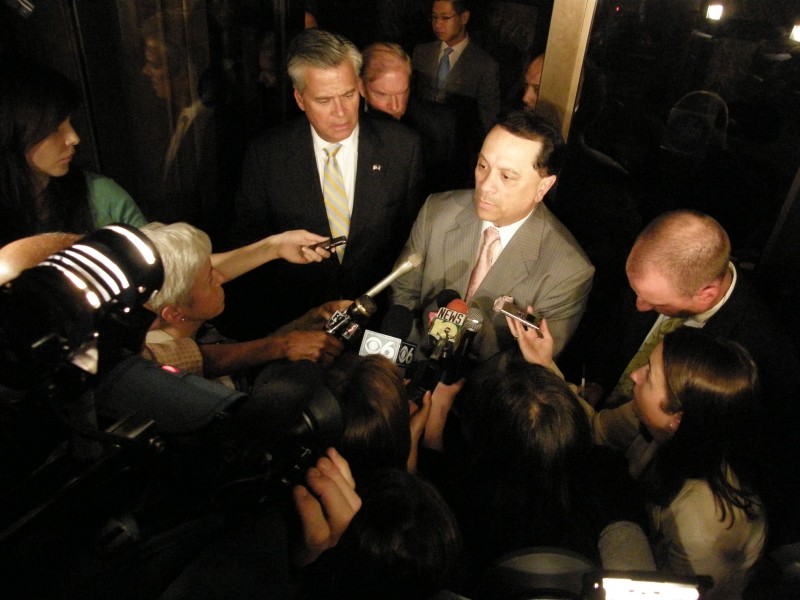 He dined on lobster, splurged on spa treatments and ordered up a luxury sport-utility vehicle. On Monday, the bill came due for former State Senate Majority Leader Pedro Espada Jr.: guilty on four counts.
Espada, an Albany power-broker, was convicted of embezzling more than $500,000 from Soundview Health Center, a not-for-profit health clinic he founded in 1978, that grew into a network of clinics. The money went for everything from that $60,000 SUV to a $1.09 pack of chewing gum, the New York Daily News reported. (The New York Times tallies Espada's haul on the charges for which he was convicted at $448,000.)
The News nicknamed Espada the "piggy pol," noting that under the terms of his agreement with Soundview, Espada continues to collect his $300,000-a-year salary. He also stands to enjoy a golden parachute that could top $10 million. Patients at the clinic expressed outrage.
The jury deliberated for 11 days, with reported outbursts of bickering and name-calling. The panel deadlocked on four more counts of theft, fraud and conspiracy against the former senator, and on a raft of similar charges against his son, Pedro Gautier Espada. The judge declared a mistrial on those counts.
Sweep to Ex-state Sen. Pedro Espada convicted of stealing from Bronx health clinic
Will the last honest person in Columbus, New Mexico, turn out the lights?
This small town on the border with Mexico, population 2,000, has seen its mayor, police chief, a city trustee and nine other public officials arrested in a conspiracy to sell weapons to drug cartels over the border.
And it is not alone. The Los Angeles Times reports that towns on the U.S. side of the border appear to be a lifeline supplying illicit weapons to the drug gangs that terrorize much of northern Mexico. A dozen public officials are under investigation in Sunland Park, New Mexico, in connection with gun running or drug trafficking over the border, and some 130 U.S. Border Patrol agents have been arrested since 2004. Another 600 are under investigation.
"Unfortunately, the border is just one vast conspiracy," the Times quotes the attorney for Columbus's former mayor, Eddie Espinoza, as saying.
Sweep to Corruption flows freely along U.S.-Mexico border 
Some 100 properties at home and abroad, an airline that turned with $15,000 in capital into $1.6 million in a single year: these are some of the alleged spoils that Adolphe Muzito, the former prime minister of the Democratic Republic of Congo, is accused of having amassed at public expense.
Investigators in Kinshasa have confirmed that they are looking into the source of Muzito's wealth, following accusations from a former fellow lawmaker, Gerard Gecoco Mulumba, the Voice of America is reporting.
Mulumba had given up his own seat in Parliament, saying he could not bear to sit with a man who had so ravaged his country. He contended that the airline, Technafrique, became a conduit for money laundering.
This is not the first time that Muzito's management has prompted scrutiny, the VOA reports. In 2009, he lost the right to authorize government purchases, after he was caught buying a fleet of SUVs at public expense for his personal use.