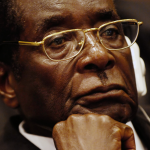 By Leslie Wayne
Summertime is travel time and no one is taking to the friendly skies more than Robert Mugabe, the Zimbabwean president who has brought nothing but poverty and pain to his country.
In July, he was in New York, even though sanctions imposed by the United States do not allow him to enter the country. The loophole? The 87-year old Mugabe and an entourage that included his wife Grace, 46, various government officials and a phalanx of body guards (twelve in all) came to attend a youth conference at the United Nations. He was the only head of state at an event that brought together young people to discuss issues common to their age group.
U.N.-sponsored events are fair game for Mugabe, as is anything at the Vatican and in other countries – mainly in Asia – that have not imposed the same travel sanctions that bar him from the U.S. and the European Union. This loophole is large enough to fly a 747 through and that is exactly what Mugabe has been doing, courtesy of Air Zimbabwe.
"He only comes on U.N. business," Nhamo Matambo, a spokesman for Zimbabwe's mission to the U.N. told 100Reporters. "It was a high level conference and people came to hear his views." Matambo declined to say where Mugabe stayed or what else he did in New York – "it is not really a concern of the public."
Even so, it is hard to miss Mugabe. On the road, he likes to roll with his pack: His companions are often a 70-member delegation and his tastes are extravagant. Mugabe's travel expenses are running around $3 million a month and it's easy to see why. He's a regular at the "Langkawi Dialogue, " a Malaysian conference where his stay in the Presidential Suite at the posh Berjaya Langkawi Beach & Spa — which "embraces the emerald waters," according to its website — costs over $1200 a night.
The Daily News, a Zimbabwe newspaper, reports that Mugabe has spent more than $20 million on travel since January alone and Zimbabwe government officials from the opposition MDC (Movement for Democratic Change) party fear his travel expenses are on track to reach $50 million by year's end.
"The situation is out of hand," said Tendai Biti, an MDC member and finance minister in the country's divided government. "It's alarming. It's frightening. It's criminal." Biti said these lavish travel bills mean "you can't put that money either into health or education" and added that nothing tangible has resulted from Mr. Mugabe's globe-trekking.
While in New York, Mugabe used the U. N. conference as a chance to continue his portrayal of Zimbabwe as a victim of "neo-colonial machinations" through illegal sanctions and constant interference in the country's domestic affairs, according to an account of his remarks on the U.N. website. All that, he said, hurts the youth of his country.
Zimbabwe is hemorrhaging money and Mugabe's jaunts cause it to bleed even more. The country has outstanding debt totaling $9 billion and anticipates a budget shortfall this year of $700 million. The Daily News article that broke the travel story estimates Mugabe's 2011 travel budget could pay for six months of AIDS treatment for 600,000 Zimbaweans.
Mugabe traveled at least six times this year to Singapore – at $3 million a pop. In January, he was off to Singapore on holiday and for an eye operation. He returned in February to correct the operation and needed a March visit, again, he said, because of his eyes. He has made several other trips there since.
He, Grace and a delegation, attended the Vatican beatification ceremonies last April for Pope John Paul II. Rome is popular on the Mugabe circuit: He attended the funeral of John Paul II in 2005 and any number of U.N. conferences in the Eternal City on such issues as food and agriculture – both of which are in short supply in Zimbabwe, thanks to Mugabe's policies.
The presence of his wife, Grace, raises hackles back in Harare. Grace's penchant for extravagant shopping sprees in the world's capitals has earned her such monikers as "Dis-Grace," "First Shopper" and "Grasping Grace." University of Zimbabwe political science professor John Makumbe saw the recent New York trip as a thinly-veiled opportunity for Grace to go shopping.
In an interview with SW Radio Africa, an independent radio station, Prof. Makumbe said Mugabe is always itching to jet away to "facilitate shopping" for Grace and replenish their supplies of luxury goods. There have been widespread press accounts of Grace's wholesale purchases of marble statues, handbags and gems and of her aides paying for hotel rooms with bags of cash.
Of course, as with all travel, not everything goes smoothly. When Mugabe was in New York last year for the U.N. General Assembly, he decided to hit a decidedly down-scale Duane Reade drug store. While standing amid a display of blushers and lipsticks and looking intently, a New Yorker with family in Zimbabwe recognized him. According to an account in London's Daily Mail, the shopper began to shout at him: "Give the power to the people. Leave office gracefully. Do it for Zimbabwe."
A dozen of Mugabe's bodyguards swooped down on the protester and bundled him outside while Mugabe, after waiting for the coast to clear, scurried into a waiting limousine.
Leslie Wayne is senior editor of 100r.org and for 29 years an award-winning New York Times business reporter.