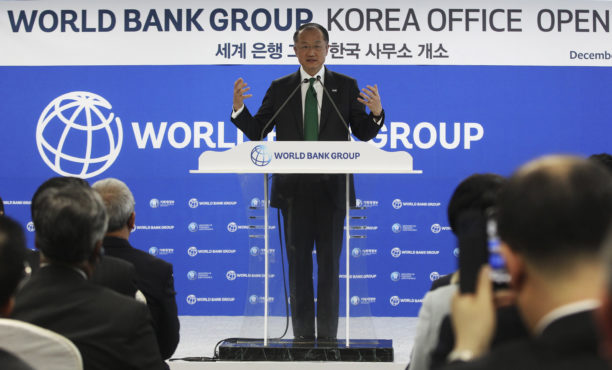 Less than half of the World Bank's staff feel they can report misconduct without fear of retaliation, a level far below a benchmark set for the private sector, according to an internal survey of employees completed last month.
Collectively, the survey results also depicted a work force where large numbers believed their superiors valued deals and loans over actually reducing poverty and where promotions often did not depend on merit.
Only a third believed that senior management created "a culture of openness and trust."
The survey comes at a time of uneasiness among rank-and-file as the bank proceeds with a cross-cutting structural reorganization, part of reforms promised by its president, Jim Kim.
But the results appeared to bolster the intensifying public criticism of ethical failures in World Bank projects around the world, which together account for tens of billions of dollars in loans and assistance to poor countries every year.
Though its work affects countless people, the World Bank enjoys legal immunity in the countries where it operates, meaning conscientious objections from within can sometimes be the only means of redress.
Beatrice Edwards, executive director of the Government Accountability Project, a whistleblower organization which has represented employees at the World Bank and International Monetary Fund, said that there was little incentive within the bank to support those sounding the alarm about wrongdoing.
"The World Bank is a closed system. The problem of retaliation is therefore a structural problem," she said.
The survey's findings jibed with those of a scathing January audit of commercial lending linked to death squads in Honduras, which found that key players in the loan process were fearful of  rocking the boat.
The audit found that environmental and social compliance staff faced removal for voicing objections to investment projects too loudly, and were encouraged not to "make waves." Some believed promotions and pay could suffer if they complained too much. By late last year, though, over a hundred people in peasant farmer communities had been killed in a violent land conflict. Allegations tied 40 of the killings to the bank-supported Honduras project itself.
In a message to staff members accompanying the employee survey report, Kim, the president, said the results contained "both good and sobering news."
"I want to underscore my personal commitment to a zero-tolerance policy on any form of retaliation for reporting wrongdoing," Kim wrote in the message dated Feb. 19.
Last year, an ad hoc survey of "organizational health" in collaboration among World Bank employees also reportedly revealed a "culture of fear."
In the abstract, most respondents generally reported positive feelings about their institution: Eighty percent viewed the World Bank Group favorably over other employers they knew of and 90 percent said they were proud to work there.
But only 46 percent believed they could report unethical conduct "without fear of reprisal," a score 31 points below an external benchmark set for private enterprises. (The report cited examples including investment banks such as Goldman Sachs, Deutsche Bank, JP Morgan Chase and Barclays.)
In answering the same question, 24 percent of respondents overall gave a negative response while 29 percent were identified as "neutral." (However, a breakdown of the response data showed that more senior managers were less fearful of retaliation, giving the strongest favorable rating at 67 percent.)
Labeled "strictly internal" and not to be shared outside the bank, the survey, which queried 13,000 employees across all World Bank institutions, was the first of its kind in four years. It comes as Kim approaches the mid-point in a five-year term in which his reform agenda has not always had a smooth path: Last year, for example, he announced the sudden departures of two managing directors, Caroline Anstey and Pamela Cox.
In advance of the Honduras audit, Kim also announced last year that he took the work of internal auditors "very seriously," acknowledging the criticism of development NGOs that found that negative reviews were too often disregarded by bank management.
However, when the Honduras audit was released, the International Finance Corporation, a private-sector lender, offered a remedial plan with few concrete steps that was widely seen as tepid, contrasting with Kim's promise.
In a rare move, the World Bank board then rejected the IFC response, directing it to devise a new plan to respond to allegations that an agribusiness client, Corporación Dinant, was responsible for scores of assassinations and killings. (The IFC promised to try to do better.)
David Theis, spokesman for the World Bank, said Monday that the bank was pleased to find that staff were motivated and committed to its goals.
"As we implement the first major restructuring in a generation — 17 years — we are not surprised to see some discomfort reflected in the survey. It is an indication of the seriousness of the change process," Theis said in an email.
Theis also noted that 80 percent of respondents found that their own managers acted "with honesty and integrity" and 86 percent believed their superiors expected "high standards of performance."
"However, while we believe we have robust and safe reporting mechanisms in place, we can always work to do better. We have zero tolerance for wrongdoing or retaliation," said Theis.
Some negative findings could appear consistent with transition: Only 42 percent said they understood the direction chosen by senior management and just 32 percent the top levels acted "as a unified leadership team."
Kim is expected to meet with staff during a "town hall" meeting on March 19.
But other poor results suggested a widely-held belief that internal politics, rather than merit, determined an employee's fate within the bank. Just 38 percent of employees surveyed felt that staff "are rewarded according to the job performance" and only 39 percent believed promotions and assignments were "made on an objective basis."
Only 45 percent agreed that managers are held accountable for actions "contrary to […] the values of diversity and inclusion." Just 46 percent believed the World Bank would take action on the survey's results.
And in numbers most likely to confirm the views of World Bank critics, only 40 percent of respondents said the bank placed more importance on development than on "the number and volume of transactions."
The bank has long been accused of fostering a "money-out-the-door" culture, where investment staff and others are rewarded for starting big-ticket projects but are long gone by the time the consequences are felt, leaving the institution unlikely to learn from its mistakes.
The Government Accountability Project helped develop the bank's current whistleblower policy, but Edwards, its executive director, said she was disappointed that the policy did not allow for external arbitration, which could temper retaliation by putting complaints in neutral hands.
Edwards said senior management was disproportionately responsible for appointments to an administrative tribunal, where judges could then become beholden to the very people accused of misconduct.
The transition cited by the World Bank may account for some discomfort among staff, she said. "But still you would expect that there would be some optimism that things would improve and there isn't."
Edwards said many career service members feared replacement by contractors and consultants, while temporary staff also feared losing their livelihoods as well.
"You'd have to be in a very strange frame of mind to be on a one-year contract and report something over your supervisor's head that implicates him," she said.