Viktor Bout, also known as the "Merchant of Death" could spend the rest of his life in prison over charges relating to his alleged arms trafficking. For 15 years, investigator Kathi Lynn Austin was on his trail and her work helped bring Bout to justice. From her front-row seat in U.S. Federal Court in New York, Austin tells a tale of international intrigue and its lethal consequences.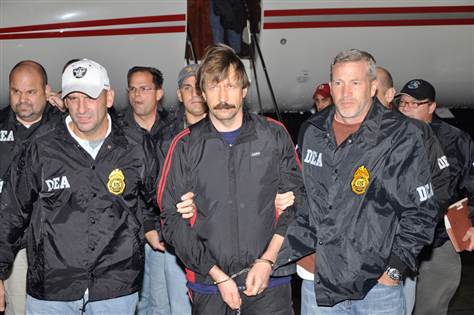 Who is the real Viktor Bout?
A former KGB official residing in Moscow who says he has "friends" in high places in Russia?
The ultimate capitalist, who once had the world's largest arms transport fleet and was contracted by the U.S. Pentagon during the Iraq War?
Or a puppet on the international stage in a show trial reenacting the Cold War?
There is no denying the tug of war between Russia and the U.S. during the extradition battle in Thai courts. The process was prolonged as both countries flexed their muscle and weighed in heavily. Hence, Bout was not extradited to the U.S. until November 2010, despite his arrest in a Bangkok hotel in March 2008.
But the back story is far more complicated.
So in the interest of cutting through nationalist emotions running high on both sides of the U.S./Russian divide–as the courtroom drama moves into its third week – let's take a deeper look.
While both countries have used Bout's services for national security operations – in more instances than I can relate here – bear in mind that also there have been splits within both governments over their approach to Viktor Bout's gunrunning activities.
To begin with, Russia and the U.S. – both permanent members of the U.N. Security Council – already had established that it was in the global interest to seek redress for Bout's violations of U.N. arms embargoes on war-torn African countries. In 2004, to safeguard international peace and security, Bout and his affiliated companies were placed on a U.N. assets freeze and travel ban list.
Yet, even after Bout was put on the punitive U.N. sanctions list in 2004, the U.S. Department of Defense (DOD) subcontracted Bout's aviation services in the Iraq War. By the time it became public knowledge in 2005, Bout's planes had flown at least 140 flights.
It would be hard for the DOD to plead ignorance. The Office of Foreign Assets Control (OFAC), a branch of the U.S. Treasury, had identified and created a flow chart of Bout's global enterprises with the intention of preventing such a course of action.
Additionally, President George. W. Bush had passed an Executive Order in June 2004 prohibiting all U.S. entities from doing business with Bout and his affiliated companies on the OFAC registry. Therefore, the Pentagon likely may have violated U.S. law as well as U.N. sanctions.
The Pentagon also should have known better. A "tried and true" method of Bout, as described in earlier U.N. and NGO reports, is that he used the cover of such authorized flights simultaneously to deliver illegal weapons to known terrorist groups.