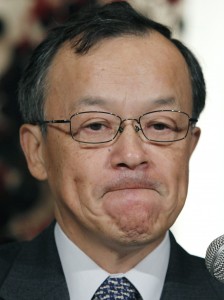 The corporate intrigue at Olympus, the Japanese camera maker, continues to thicken. The company admitted today that it had funneled more than $1 billion through obscure investment funds, including one in the Caymans, to hide years of corporate losses. There were bows and apologies by the company's new president in Toyko, where some Olympus executives involved in the scheme have already been shown the door.
In the United States, the Federal Bureau of Investigation and the Securities and Exchange Commission are investigating the company's actions – which could represent one of the largest accounting frauds in corporate history. The whistle-blower in the matter is the company's former chief executive Michael C. Woodford, a Brit who was ousted last October when he uncovered the dealings and tried to investigate.
At the time, company officials said that Woodford's aggressive Western-style approach to business led to his exit. He even had to leave the country immediately.
If uncovering fraud is part of that aggressiveness, isn't that a good thing?
Sweep to Olympus hid investing loses in big merger payouts
[spacer size="20″]
Pakistan, which has a passion for cricket, has been rocked by a game-fixing scandal that has sent three top players to jail. Now, the former Pakistan coach is saying that the cricket world should rally around the anti-corruption unit of the International Cricket Council. The unit has been criticized in the past as a "toothless tiger." Three players sold themselves for a modest amount of money and will never play again.
In Pakistan, cricket had been a welcome distraction from the country's internal security threats and natural disasters. The nation feels understandably let down by the fixing scandal. Perhaps a more effective anti-corruption effort by the ICC can restore the country's pride in the game, and in itself.
Sweep to Waqar backs anti-corruption unit
[spacer size="20″]
Mark your calendars for December 6. That's the date when former Illinois Gov. Rod Blagojevich will be sentenced after being convicted on 18 counts of corruption. He could face up to 305 years in prison, although most legal experts are betting on something closer to ten years.
Given the long line of Illinois politicians who have gone from the statehouse to the big house, Blagojevich will be upholding a time-honored tradition. Since 1970, half of the state's governors, four out of eight, have been imprisoned on corruption charges.
Sweep to Blagojevich sentencing set for Dec 6, when ousted Illinois governor expected to address court