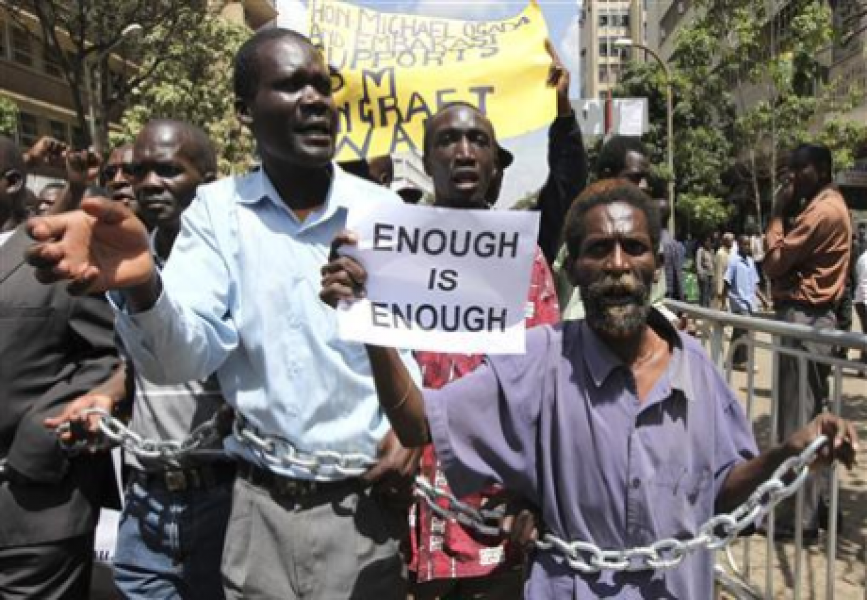 They say sunlight is the best disinfectant – and now one Kenyan man is hoping a new website will help both hold corrupt officials accountable for their bribery attempts, and empower citizens on the receiving end of the shakedowns.
The new site, www.ipaidabribe.or.ke, allows Kenyans to report and share stories about bribes they paid, and also bribes they avoided paying or negotiated down.
The site already has more than 300 citizen-submitted reports less than three weeks after launching. It will also attempt to highlight instances where officials actually acted honorably.
"I want to show the good as well as the bad," said Anthony Ragui, the site's founder. "I want to create competition between departments and regions, so that leaders want to be rated in the top five and not the bottom five."
Among the tales submitted so far: one Kenyan describes how she foiled a traffic cop's attempt to extort her husband by getting out of the car while breastfeeding her baby and shaming the officer into backing down.
The site is based on the same software running a similar Indian website that's been collecting bribery information since 2010, and also goes by the "Ipaidabribe" moniker. That project has documented more than 15,000 bribes so far, and the Kenyan site is its first spin-off of sorts.
Sweep to Kenyan activist launches anti-bribery website
A former U.S. Army major has been sentenced to 12 years in prison for his role in a bribery scandal tied to the awarding of Iraq war defense contracts.
Eddie Pressley, the 41-year-old former contracting officer, was also ordered by the Alabama federal judge presiding over the case to forfeit $21 million, along with multiple pieces of real estate and cars.
"Mr. Pressley participated in a wide-ranging scheme to steer U.S. Army contracts to particular providers in exchange for personal, illegal profit," said Assistant Attorney General Lanny Breuer, in a statement released Friday by the Justice Department. "Taking in nearly $3 million, he enlisted his wife to help him conceal the nature of his bribes and created phony paperwork to keep the scheme going."
Pressley's wife has also been convicted on multiple counts, but has yet to be sentenced. The wide-ranging conspiracy – which centered on corruption at a U.S military base in Kuwait called Camp Arifjan – has now resulted in 17 people being convicted or pleading guilty to bribery and money laundering.
Sweep to Former Army major sentenced to prison 
Prosecutors in California's San Diego County have charged several top officials in a suburban school district – along with a corrupt contractor – with engaging in a massive "pay for play" scheme.
The contractor, Henry Amigable – who was also charged – apparently pulled out all the stops when it came to handing out bribes to steer millions of dollars in business his way.
The Los Angeles Times reports Amigable "allegedly provided school officials with thousands of dollars in restaurant meals, airline tickets, and admission to a Rose Bowl game, the Los Angeles Lakers playoffs, concerts and theater performances."
As if that weren't enough, some of the officials "solicited cash for their children's beauty pageants and field trips." Classy.
The 26 charges faced by the five defendants include bribery, perjury, filing a false statement and influencing an elected official.  "The corruption was nothing short of systemic," San Diego County District Attorney Bonnie Dumanis told the Times.