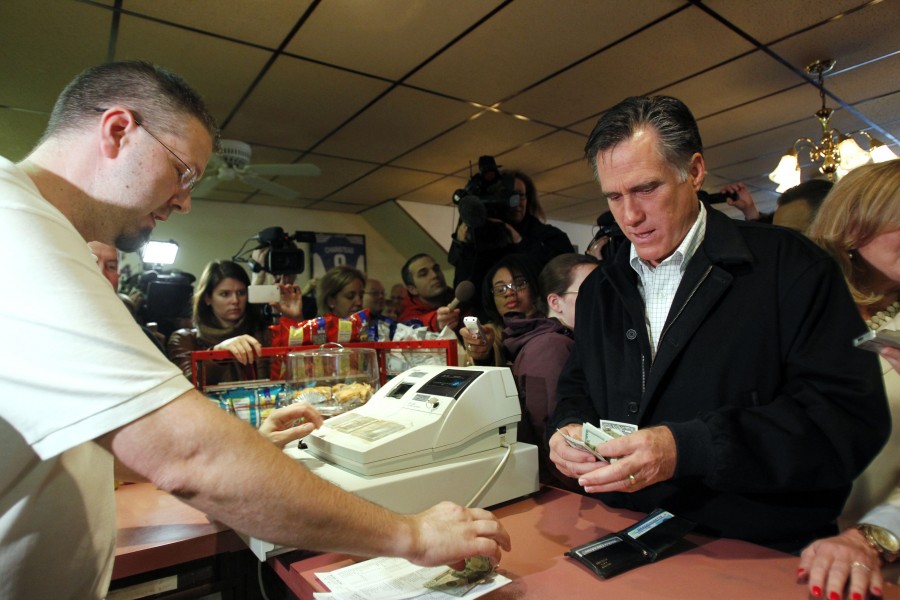 Mitt Romney, the former Massachusetts governor who is seeking the Republican Party's presidential nomination, says he will not make his tax returns public, even if he becomes his party's candidate in the general election.
Romney is easily the wealthiest in his party's field of presidential contenders, having declared $250 million in personal wealth in his latest financial disclosure last August.
While presidential candidates aren't obliged to release their tax returns publicly, it has become customary over the last 30 years to do so. In remarks released by his campaign, Romney indicated that he had made use of tax loopholes.
"We follow the tax laws, and if there's an opportunity to save taxes, we – like everybody else in this country – will follow that opportunity," he said. He left the door open to a change of heart later on.
His stand left Romney vulnerable to immediate attack from the Obama campaign.
"What is it that he doesn't want the American people to see?" asked Ben LaBolt, a spokesman for the Obama campaign.
Sweep to Romney not inclined to release tax return if he wins nomination
Developing countries lost a staggering $900 billion in 2009 through illicit offshore transfers, according to a new report by the Global Financial Integrity Project, a Washington-based corruption watchdog group.
The wide-ranging study examines data from the World Bank and the International Monetary Fund to reach concrete estimates of the cost of corruption. Its estimates capture only certain kinds of corruption that analysts are able to document, and so are considered conservative.
The figure for 2009 is down from $1.26 trillion in 2008, but the decline is not a hopeful sign, the report found. It reflects, rather, a drop in international trade and foreign investment for the year, rather than any government steps to crack down on corruption.
The greatest outflows of illicit capital were from China, which lost more than $291 billion in lost revenues from 2000 to 2008. And corruption over the decade rose most in Africa, where illicit outflows increased 32.5 percent a year between 2000 and 2009.
The report estimates that for every $1 in foreign aid to developing countries, some $10 leaves needy nations through corruption.
Sweep to Illicit financial flows from developing countries
The top-to-bottom corruption in Afghanistan is legend, said to emanate from presidential circles to the hospitals where wounded soldiers must pay extra just to eat.
But a case unfolding in courts across the United States parts the curtain on corruption in American procurement there as well.
In a Chicago courtroom this week, U.S. District Judge Matthew F. Kennelly sentenced Christopher West, a former major in the Army National Guard, to five years in prison for taking kickbacks while serving in Afghanistan. West was ordered to pay $500,000 in restitution to the U.S. Defense Department as well.
While at Bagram Air Base, West had signed off on bunkers and barriers that were never actually delivered to Afghanistan. West belonged to a larger conspiracy to bilk the government through phony contracts for structures to protect U.S. troops. The government paid for the construction, but soldiers were left without needed protection.
West and two fellow officers accepted $30,000 each from contractors in the phony deals. He is the eighth defendant to be sentenced in the case. Another 10 are convicted, but still await sentencing.
Sweep to Bribery was rampant at Bagram airfield